Dawn of the Metal Age: Technology and Society During the Levantine Chalcolithic
, by
Golden,Jonathan M.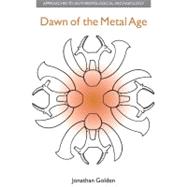 Note: Supplemental materials are not guaranteed with Rental or Used book purchases.
ISBN: 9781904768999 | 1904768997
Cover: Hardcover
Copyright: 9/17/2014
By midway through the fifth millennium BCE, rapid social change was underway in the southern Levant. One critical dimension of this cultural revolution was a series of profound technological breakthroughs, bringing the dawn of the age of metals. Archaeologists working in the region have discovered a host of sites dating to the Chalcolithic Period (4700-3500 BCE) with material culture reflecting the production and use of copper. This survey will take the reader from the copper mines of the Aravah in Jordan and Israel where the ore was acquired, to the villages of the northern Negev such as Shiqmim, where copper was produced in household workshops, and the Beer Sheva sites, where several large workshops sprung up, and where a variety of finished copper goods saw limited circulation. We will also explore a series of cave burials, such as the hidden tomb at Nahal Qanah, where a range of sumptuous luxury goods and exotic "imports" including copper scepters and the earliest gold in the region were buried with the elite members of Chalcolithic society. Thus, in addition to reconstructing ancient technology, the archaeological evidence also affords us the opportunity to study the changing economic, social and political environment of the time. For example, there is early evidence for specialized craftsmanship, the exchange of luxury goods, and far-flung trade relations. The evidence also indicates that some members of society had greater access to certain goods than others, and that some individuals may have harnessed the symbolic power of the new-founded metals industry in order to promote their own political power.