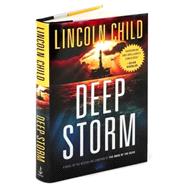 Note: Supplemental materials are not guaranteed with Rental or Used book purchases.
ISBN: 9780385515504 | 0385515502
Cover: Hardcover
Copyright: 1/16/2007
Twelve-thousand feet beneath the Atlantic Ocean . . . scientists are excavating the most extraordinary undersea discovery ever made. But is it the greatest archaeological find in historyor the most terrifying? Former naval doctor Peter Crane is urgently summoned to a remote oil platform in the north Atlantic, to help diagnose a bizarre medical condition spreading through the rig. But when he arrives, Crane learns that the real trouble lies far belowon "Deep Storm," a stunningly advanced science research facility built two miles beneath the surface on the ocean floor. The top-secret structure has been designed for one purpose: to excavate a recently discovered undersea site that may hold the answers to a mystery steeped in centuries of myth and speculation. Sworn to secrecy, Peter Crane descends to Deep Storm. A year earlier, he is told, routine drilling uncovered the remains of mankind's most sophisticated ancient civilization: the legendary Atlantis. But now that the site is being excavated, a series of disturbing illnesses has begun to affect the operation. Scientists and technicians are experiencing a bizarre array of symptomsfrom fatigue to paralysis to violent psychotic episodes. As Crane is indoctrinated into the strange world of Deep Storm, he attempts to discover the cause . . . but he begins to suspect that the covert facility conceals something far more complicated than a medical mystery. The discovery of Atlantis might, in fact, be a cover for something far more sinister . . . and deadly. Like Lincoln Child's spectacular bestsellers coauthored with Douglas Preston (The Book of the Dead, Relic),Deep Stormmelds scientific detail and gripping adventure in a superbly imagined, chillingly real journey into unknown territory. Child is a master of suspense, andDeep Stormis his most entertaining novel to date.