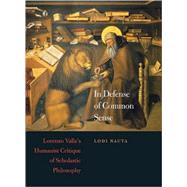 Note: Supplemental materials are not guaranteed with Rental or Used book purchases.
ISBN: 9780674032699 | 0674032691
Cover: Hardcover
Copyright: 3/31/2009
One of the leading humanists of Quattrocento Italy, Lorenzo Valla (ca. 14061457) has been praised as a brilliant debunker of medieval scholastic philosophy. In this book Lodi Nauta seeks a more balanced assessment, presenting us with the first comprehensive analysis of the humanistrs"s attempt at radical reform of Aristotelian scholasticism.This study examines Vallars"s attack on major tenets of Aristotelian metaphysics, showing how Valla employed common sense and linguistic usage as his guides. It then explicates Vallars"s critique of Aristotelian psychology and natural philosophy and discusses his moral and religious views, including Vallars"s notorious identification of Christian beatitude with Epicurean pleasure and his daring views on the Trinity. Finally, it takes up Vallars"s humanist dialectic, which seeks to transform logic into a practical tool measured by persuasiveness and effectiveness.Nauta firmly places Vallars"s arguments and ideas within the contexts of ancient and medieval philosophical traditions as well as renewed interest in ancient rhetoric in the Renaissance. He also demonstrates the relevance of Vallars"s conviction that the philosophical problems of the scholastics are rooted in a misunderstanding of language. Combining philosophical exegesis and historical scholarship, this book offers a new approach to a major Renaissance thinker.