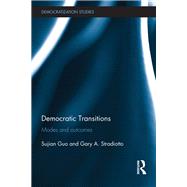 Note: Supplemental materials are not guaranteed with Rental or Used book purchases.
ISBN: 9780415643207 | 0415643201
Cover: Hardcover
Copyright: 4/1/2014
The core research questions were driven by a common theme-what makes democracies succeed and/or fail and does the mode of transition influence the quality of democracy and the longevity or durability of democracy? The transition literature falls short in creating generalizable conclusions about the influence of transitional modes on the success of democratic transition. For our research purpose, we construct two complimentary questions. First, does the way in which states transition to democracy affect democratic quality? That is, do certain types of transitions result in a high level of democratic participation and a faster democratic deepening than others? Second, is democratic durability a function of transitional modes? Are some modes of transition more likely than others to result in a reversion to authoritarian rule? The bifurcation of these issues is important since democratic duration is not synonymous with quality and some democracies achieve a rapid deepening despite being democratic for only a few years. To answer these questions, we developed a theory and argued that the mode of transition directly impacts the success and failure of democracy. Consequently, modes of transition matter as they affect both democratic quality and durability by creating an environment characterized by cooperation among competing political elites or exclusionary mechanisms that allow a single party or elite to retain a monopoly on power. Our theory suggests two hypotheses for testing the causal effect of transitional modes on democratic quality and survival rates. Throughout the 1980s and 1990s, there was a large literature on transitional types yet few, if any, generalizable conclusions were reached. Rather, summaries were drawn on a case-by-case or regional basis and therefore, the advancement of our collective knowledge was minimalized. As certain regions began to grapple with consolidation, the transition research was largely set aside. Nonetheless, many regions of the world remain undemocratic-many countries of the Middle East, Africa and Asia, particularly China, the largest country with the most rapid economic growth over the past thirty years. We are also seeing slippage in other parts of the world, such as Eastern Europe. A major contribution of this study is the creation of a cross-national dataset of all democratic transitioning states since 1900, and coding them as to the mode of transition, which was accomplished through detailed case study analyses and cross verification with widely accepted works on transitions. We attempted to create a parsimonious categorization of modes of transition that allow for the placement of any transitioning state into one of four types. To the best of our knowledge, this is the first study to statistically test the impact of mode of transition on the quality and durability of democracy. Existing studies of this empirical relationship are almost exclusively case oriented or regionally focused. None use the larger dataset employed in this study and subject it to a rigorous statistical analysis.