Dethroning the King : The Hostile Takeover of Anheuser-Busch, an American Icon
, by
MacIntosh, Julie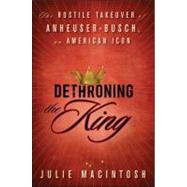 Note: Supplemental materials are not guaranteed with Rental or Used book purchases.
ISBN: 9780470592700 | 0470592702
Cover: Hardcover
Copyright: 10/26/2010
The amazing true story behind the siege of America's favorite beer company
How did InBev, a Belgian company controlled by Brazilians, take over one of America's most beloved brands after barely a whimper of a fight? Timing, and some unexpected help from powerful members of the Busch dynasty, the very family that had run the company for more than a century.
In Dethroning the King, the award-winning financial journalist who led coverage of the takeover for the Financial Times details how the drama that unfolded at Anheuser-Busch in 2008 went largely unreported as the world tumbled into a global economic crisis second only to the Great Depression. Today, as the dust settles, questions are being asked about how theKing of Beer was so easily captured by a foreign corporation, and whether the company's fall mirrors America's dwindling financial and political dominance.
-Discusses how the takeover of Anheuser-Busch will be seen as a defining moment in U.S. business history
-Reveals the critical missteps taken by the Busch family and the Anheuser-Busch board
-Argues that Anheuser-Busch had a chance to save itself from InBev's clutches, but strong forces behind the scenes forced it to capitulate
From the very heart of America's heartland to the European continent to Brazil, Dethroning the King is the ultimate corporate caper and a fascinating case study that's both wide reaching and profound.
"There's a lesson for au all in book on brewing. a great read." -Morning Advertiser
"Dethroning the King, is the compelling play-by-play of InBev's takeover of Anheuser-Busch. Give MacIntosh a Stella Artois for her excellent reporting." -Stltoday.com
"Dethroning the King is a brutally detailed look at the hostile takeover of Anheuser Busch, the legendary icon that at one time was the epitome of American business success. It is a story that may well go down in American business history as one of the defining moments of this era. An insightful and brilliantly written work. As American business continues to dramatically change, this compelling book should be on every businessperson's reading list." -Business Lexington