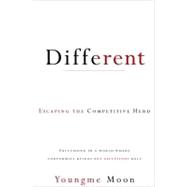 Note: Supplemental materials are not guaranteed with Rental or Used book purchases.
ISBN: 9780307460851 | 0307460851
Cover: Hardcover
Copyright: 4/6/2010
Why trying to be the best hellip; competing like crazy hellip; makes you mediocre Every few years a book-through a combination of the authorrs"s unique voice, storytelling ability, wit, and insight-simply breaks the mold. Bill Brysonrs"sA Walk inthe Woodsis one example. Richard Feynmanrs"s "Surely Yours"re Joking, Mr. Feynman!"is another. Now comes Youngme Moonrs"sDifferent,a bookfor "people who donrs"t read business books." Actually, itrs"s more like a personal conversation with a friend who has thought deeply about how the world works hellip; and who gets you to see that world in a completely new light. If there is one strain of conventional wisdom pervading every company in every industry, itrs"s the absolute importance of "competing like crazy." Youngme Moonrs"s message is simply "Get off this treadmill thatrs"s taking you nowhere. Going tit for tat and adding features, augmentations, and gimmicks to beat the competition has the perverse result of making you like everyone else."Differentprovides a highly original perspective on what it means to offer something that ismeaningfullydifferent-different in a manner that is both fundamental and comprehensive. Youngme Moon identifies the outliers, the mavericks, the iconoclasts-the players who have thoughtfully rejected orthodoxy in favor of an approach that is more adventurous. Some are even "hostile," almost daring you to buy what they are selling. The MINI Cooper was launched with fearless abandon: "Worried that this car is too small? Look here. Itrs"s even smaller than you think." These are players that strike a genuine chord with even the most jaded consumers. In fact, almost every success story of the past two decades has been an exception to the rule. Simply go to your computer and compare AOL and Yahoo! with Google. The former pile on feature upon feature to their home pages, while Google is like an austere boutique, dominating a category filled with "extras." Differentshows how to succeed in a world where conformity reignshellip;but exceptions rule.