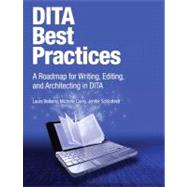 Note: Supplemental materials are not guaranteed with Rental or Used book purchases.
ISBN: 9780132480529 | 0132480522
Cover: Paperback
Copyright: 9/30/2011
the complete, best-practice guide to implementing and using DITA: expert, 'in the trenches' advice you can't find anywhere else! Answers the crucial questions the 'official' DITA documentation doesn't cover, from 'Where do you start?' to 'How do you avoid the pitfalls?' Reflects the authors' unsurpassed experience in all facets of enterprise-scale DITA planning, deployment, and day-to-day usage. Offers practical guidance on topic-based writing, content architecture, and ensuring a quality implementation. Darwin Information Typing Architecture (DITA) is today's most powerful toolbox for constructing information. Implementing DITA can help organizations significantly improve the value of their technical documentation. This book brings together best practices and real-world guidance for success with DITA deployment and usage. Drawing on years of experience helping organizations implement DITA, The authors answer the crucial questions the 'official' DITA documents ignore: Where do you start in implementing DITA? What should you know before you start writing? What are DITA's gotchas and pitfalls? Which DITA elements, attributes, and features should you know upfront, and which can wait? Technical writers and their managers can use this book as a complete roadmap for DITA adoption and implementation. Part 1 walks through the basics of topic-based writing, especially the importance of writing accurate, usable short descriptions. Part 2 covers more advanced topics related to content architecture, including DITA maps, linking strategies, metadata, conditional processing, and content reuse. Part 3 covers quality DITA implementations, offering crucial guidance for converting content to DITA, whether you do it in-house or utilize a third-party vendor.