Do It Anyway Finding Personal Meaning and Deep Happiness by Living the Paradoxical Commandments
, by
Keith, Kent M.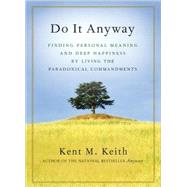 Note: Supplemental materials are not guaranteed with Rental or Used book purchases.
ISBN: 9781577316282 | 1577316282
Cover: Paperback
Copyright: 5/28/2008
Best-selling author Kent Keith self-published his Paradoxical Commandments in the 1960s as an undergraduate at Harvard, and promptly forgot them. But these maxims emphasizing selflessness and compassion took on a life of their own, finding their way into countless speeches, advice columns, institutions, and homes. They have been quoted by the Boy Scouts and have even been discovered in Mother Teresa's Missionaries of Charity in Calcutta. Thirty years later, they were reclaimed by Kent and formally published as Anyway: The Paradoxical Commandments, an inspirational guide for living. Now Kent shares new stories of following these simple, sensible truths. In Do It Anyway, Kent provides specific tools, exercises, and suggestions that the reader can use for personal introspection or group discussion. As Keith has travelled the world talking with people about the Paradoxical Commandments, he has been struck by the fact that almost everyone agrees that they should live "the paradoxical life". The question is: How do you do it? This book is his answer. It gives people the examples, the tools, and the encouragement to live the paradoxical life and find personal meaning and deep happiness, no matter who they are, and no matter what their past or present conditions may be. The book includes 40 stories from people he has personally known who live the Paradoxical Commandments each day. They include a school teacher, a housing developer, a retired Navy captain, a YMCA leader, a jeweller, an occupational therapist, the CEO of a non-profit organization, a college professor, a pineapple plantation worker, an Army sergeant, a nurse, and a financial adviser. By quietly living the Paradoxical Commandments, they find personal meaning and deep happiness, even when times are tough.