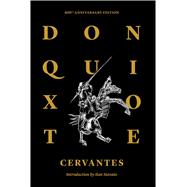 Note: Supplemental materials are not guaranteed with Rental or Used book purchases.
ISBN: 9781632060754 | 1632060752
Cover: Paperback
Copyright: 10/6/2015
Newly introduced by leading Quixote scholar Ilan Stavans, this 400th Anniversary edition of Don Quixote of La Mancha—called the most popular book in history after the Bible and the first modern novel—inaugurates Restless Classics: interactive encounters with great books and inspired teachers. Each Restless Classic is beautifully designed with original artwork, a new introduction for the trade audience, and a video teaching series and live online book club discussions led by passionate experts.

Don Quixote of La Mancha has been called the most popular book in history after the Bible and the first modern novel. One might even say that this tragi-comic work is far more than a novel: It is a manual for life, with lessons on how to love, dream, age, and be a friend. It encourages engagement with the essential questions: Who am I? Why am I here? What is my responsibility toward others? What is the meaning of being mortal? Furthermore, it is a book about books, about the act—and art—of reading, and about the imagination as the engine that makes us move.

In an unnamed village in La Mancha, Spain, a nobleman named Alonso Quijano, after becoming completely consumed by the countless novels on chivalry he reads, reimagines himself as the valiant Don Quixote, and the knight and his loyal squire, Sancho Panza, set off on a series of misadventures, battling fictitious enemies for the sake of gallantry.

In the words of scholar Ilan Stavans, Don Quixote is fluid, inexhaustible, and magical. For the four-hundredth anniversary of its publication and its author's death, Restless Books releases a beautiful new edition of this timeless work with a brand-new introduction from Stavans, astounding original illustrations by the artist Eko, and wealth of linked multimedia material to help introduce you to the classic's inner workings.

HOW TO ACCESS THE VIDEOS AND BOOK GROUP DISCUSSIONS

The Restless Classics edition of Don Quixote comes with a corresponding series of eight teaching videos and four online book group discussions led by Ilan Stavans. Once you have the book in hand, you'll see a set of instructions on the first page, which will direct you to look for a symbol that appears eight times throughout the book, signaling a corresponding video.

The instructions will also list a website where, after entering your information, you'll be able to access the videos and get the details about the four live online book club discussions that will take place in the months following publication. Once released, all videos will remain live for later viewing. All book group discussions will be archived and will remain accessible as well. We hope you'll join us in this interactive reading journey!