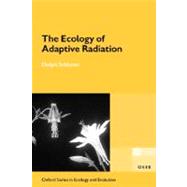 Note: Supplemental materials are not guaranteed with Rental or Used book purchases.
ISBN: 9780198505235 | 019850523X
Cover: Hardcover
Copyright: 12/7/2000
Adaptive radiation is the evolution of diversity within a rapidly multiplying lineage. It can cause a single ancestral species to differentiate into an impressively vast array of species inhabiting a variety of environments. Much of life's diversity has arisen during adaptive radiations. Someof the most famous recent examples include the East African cichlid fishes, the Hawaiian silverswords, and of course, Darwin's Galapagos finches,. This book evaluates the causes of adaptive radiation. It focuses on the 'ecological' theory of adaptive radiation, a body of ideas that began withDarwin and was developed through the early part of the 20th Century. This theory proposes that phenotypic divergence and speciation in adaptive radiation are caused ultimately by divergent natural selection arising from differences in environment and competition between species. In The Ecology ofAdaptive Radiation the author re-evaluates the ecological theory, along with its most significant extensions and challenges, in the light of all the recent evidence. This important book is the first full exploration of the causes of adaptive radiation to be published for decades, written by one ofthe world's best young evolutionary biologists.