Einstein's God : Conversations about Science and the Human Spirit
, by
Tippett, Krista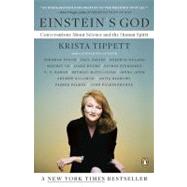 Note: Supplemental materials are not guaranteed with Rental or Used book purchases.
ISBN: 9780143116776 | 0143116770
Cover: Paperback
Copyright: 2/23/2010
Albert Einstein did not believe in a personal God. And his famous quip that "God does not play dice with the universe" was a statement about quantum physics, not a statement of faith. But he did leave behind a fascinating, largely forgotten legacy of musings and writings-some serious, some whimsical-about the relationship between science and religion and his own inquisitive reverence for the "order deeply hidden behind everything". Einstein's self-described "cosmic religious sense" is intriguingly compatible with twenty-first-century sensibilities. And it is the starting point for Einstein's God.
Drawn from American Public Media's extraordinary program Speaking of Faith, the conversations in this profoundly illuminating book explore an emerging interface of inquiry-if not answers-between many fields of science, medicine, theology and philosophy. In her interviews with such luminaries as Freeman Dyson, Paul Davies, V. V. Raman, and Mehmet Oz, Krista Tippett draws out the connections between these realms, showing how even those most wedded to hard truths find spiritual enlightenment in the life of experiment and, in turn, raise questions that are richly theologically evocative.
Whether she is speaking with celebrated surgeon and author Sherwin Nuland about the biology of the human spirit or questioning Darwin biographer James Moore about his subject's religious beliefs, Tippett offers a rare look at the way our best minds grapple with the questions for which we all seek answers.
"Krista Tippett has a knack for finding thinkers who tackle deep and important questions in a sober but uninhibited fashion. The result is an exhilarating exploration of the meaning of it all." -Robert Wright, author of The Evolution of God
"No one has a better ear for the most interesting facets of faith than Krista Tippett. And few topics lend themselves better to her nuanced interviews than the clash/collaboration/interplay of science and religion. If you want something beyond black-and-white culture war battles, you'll find these interviews powerfully stimulating."-Steven Waldman, founder and editor in chief, Beliefnet
"In this sparkling book of interviews, Krista Tippett demonstrates that science and religion both benefit from a genuine dialogue. It doesn't matter if Tippett is talking about free will or the anatomy of the soul-she is always probing, measured, and illuminating. This book is a hopefully reminder that the intellectual conflicts we take for granted don't need to exist." -Jonah Lehrer, author of How We Decide