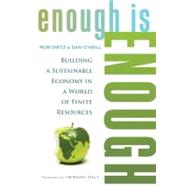 Note: Supplemental materials are not guaranteed with Rental or Used book purchases.
ISBN: 9781609948054 | 160994805X
Cover: Trade Paper
Copyright: 1/7/2013
Our planet is finite. And on this finite planet we now have seven billion people, with an estimated three billion more on the way by midcentury. The seven billion of us have to find ways to reverse the environmental crises we've set in motion, eradicate poverty, and erase the divide between the haves and the have-nots. The economic orthodoxy in use around the globe-the pursuit of never-ending economic growth is not up to the challenge. With each passing day, we are witnessing more and more uneconomic growth-growth that costs more than it is worth. An economy that chases perpetually increasing production and consumption, always in search of more, stands no chance of achieving a lasting prosperity. The purpose of this book is to describe how to establish a prosperous yet non-growing economy. The emphasis is far less on diagnosing the problem-there are already many books that do that-- than on laying out practical solutions for achieving a steady-state economy and strategies for making them a reality. Now is the time to change the economic goal from the madness of more to the wisdom of enough. Enough Is Enough offers readers a much-needed escape route from the environmental and economic traps we've set for ourselves.