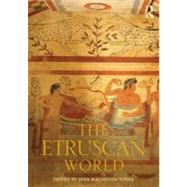 Note: Supplemental materials are not guaranteed with Rental or Used book purchases.
ISBN: 9780415673082 | 0415673089
Cover: Hardcover
Copyright: 8/13/2013
In the past fifteen years striking advances have been made in scholarship and research techniques for Etruscan Studies. Archaeological and scientific discoveries have changed our picture of the Etruscans and furnished new, specialized information. Thanks to the work of dozens of international scholars, it is now possible to discuss topics of interest that could never before be researched, such as Etruscan mining and metallurgy, textile production, foods and agriculture. The Etruscans can be shown to have made significant, in some cases perhaps the first, technical advances in the central or northern Mediterranean, with such developments as the tie-beam truss in large wooden structures, surveying and engineering of the cuniculi (drainage and water tunnels), the development of the foresail for fast long-distance sailing vessels, fine techniques of metal production and other pyrotechnology, post-mortem C-sections in medicine, and more . In art, many technical and iconographic developments, although they certainly happened first in Greece or the Near East, are first seen in extant Etruscan works, since they were preserved in the lavish tombs and goods of Etruscan aristocrats. These include early portraiture, the first full-length painted portrait (Vel Saties of Vulci in the François Tomb), the first perspective view of a human figure in monumental art (Tomb of the Triclinium, Tarquinia, female dancer's foot), specialized techniques of bronze-casting, and reduction-fired pottery (the bucchero phenomenon). The heritage of Etruscan culture is only now being identified, thanks to archaeological and linguistic research. The Etruscan Worldbrings to life the culture and material past of the Etruscans and highlights key points of development in research.