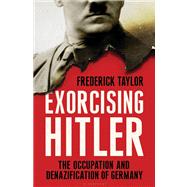 Note: Supplemental materials are not guaranteed with Rental or Used book purchases.
ISBN: 9781596915367 | 1596915366
Cover: Hardcover
Copyright: 5/10/2011
The collapse of the Third Reich in 1945 was nearly unprecedented in history. Only the fall of the Roman Empire, 1,500 years earlier, compares to the destruction visited on Germany. An industrious and inventive nation, home to an outsized share of Europe's thinkers, artists, and scientists, was shattered by the war. The country's cities lay in ruins, and its economic base and cultural heritage were devastated. The German people themselves were seen by the world as willing servants of an evil dictator. How would the Allies, and their vanquished enemies, handle the end of horror without precedent? InExorcising Hitler, master historian Frederick Taylor tells the story of Germany's Year Zero and what came next. He describes the bitter endgame of war, the Nazi resistance, and the vast displacement of people in central and eastern Europe. As a once proud German people sat at the brink of starvation, the Soviets and the West began a contest to control the heartland of Europe. Exorcising Hitleris the story of how the victors of World War II dealt with an appalling and almost unbearably complex challenge, a story seen through the eyes of high and low, foreigner and German alike. It concludes on a high note, telling howfor all the failures and mistakes that went along with the Allied triumphthe democratic, law-abiding state that is modern Germany was born.