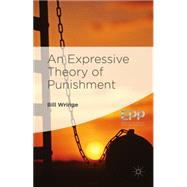 Note: Supplemental materials are not guaranteed with Rental or Used book purchases.
ISBN: 9781137357113 | 1137357118
Cover: Hardcover
Copyright: 11/18/2015
In An Expressive Theory of Punishment, Wringe argues for a 'denunciatory' theory of punishment on which the function of punishment is to communicate a message about an offender's wrongdoing to society at large. He starts by developing an account of the 'paradigmatic' case of punishment, where a state punishes one of its own citizens, and then extends the account to cover various non-paradigmatic cases, such as the punishment of corporations, the punishment of war criminals by international tribunals, and the punishment of states. Wringe argues that an account of this sort undermines a number of recent arguments which suggest that the institution of punishment is unjustifiable. He also examines practical consequences of his views, arguing, for example, that the practice of perp walks constitutes a form of unjustifiable pre-trial punishment, and claiming that there are at least some conceivable ways of punishing states that might be morally acceptable.