Faith Misplaced : The Broken Promise of U. S. - Arab Relations, 1820-2001
, by
Makdisi, Ussama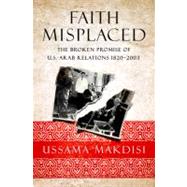 Note: Supplemental materials are not guaranteed with Rental or Used book purchases.
ISBN: 9781586486808 | 1586486802
Cover: Hardcover
Copyright: 6/22/2010
In this riveting account of U.S.-Arab relations, award-winning author Ussama Makdisi explores why Arabs once had a favorable view of America and why they no longer do. Firmly rejecting the spurious notion of a civilizational clash between Islam and the West, Makdisi instead demonstrates how an initial zealous American missionary crusade was transformed across the nineteenth-century into a leading American educational presence in the Arab world, and how the advent of the idea of Wilsonian self-determination, amidst wide-scale Arab emigration to the United States, further bolstered a positive, foundational Arab idea of America. However, a series of subsequent political turning points-beginning with the British and French colonial partition of the Arab world in 1920 and culminating in the U.S.-backed creation of Israel in 1948 at the expense of the Palestinians-systematically alienated Arabs from America. Drawing on both American and Arab sources, Makdisi brings to the fore for the first time a wide range of hitherto marginalized Arab perspectives on their multifaceted cultural and political encounters with America. Unearthing this neglected history puts current politics and Arab attitudes toward the United States in a crucial historical perspective. By tracing how American missionaries laid the basis for an initial Arab discovery of America, and then how later U.S. policy decisions fueled anti-Americanism, Makdisi tells a powerful historical tale brimming with contemporary relevance.