Fame's Eternal Camping-grounds: A Historical and the Original Authentic Accounts of the Civil War Battles Fort Donelson, Shiloh, and Vicksburg
, by
MATE TAMMY L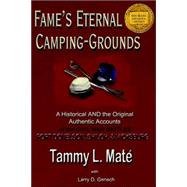 Note: Supplemental materials are not guaranteed with Rental or Used book purchases.
ISBN: 9780975372104 | 0975372106
Cover: Paperback
Copyright: 4/30/2005
This TWO-PART BOOK (first half is historical novel; second half contains the original accounts) has something for everyone from the Civil War novice to the Civil War buff; for those who enjoy historicals and those who want authentic material. HISTORICAL NOVEL: Fame's Eternal Camping-Grounds is based on my great great grandfather's (Civil War Sharpshooter, John Lyons) Civil War diaries and newspaper articles. In the novel, John takes his fourteen year old son down to the "Old Battlegrounds," where he fought; and when they get there, they meet up with comrades and friends from both sides of the war (North as well as South). They all sit around campfires at the different battlegrounds and tell their battle stories to the boy. The battle stories told are verbatim from the various diaries, letters, etc. of the veterans as they truly told them in real life. AUTHENTIC DOCUMENTATION SECTION: The second part of the book includes the original diary entries and letters through photo copies, which correspond with the veterans' battle stories. Second Lieutenant George Dodd Carrington's five year diary was so large, however, that I had to create a whole separate book, entitled Second Lieutenant George Dodd Carrington: Authentic Civil War Diary.