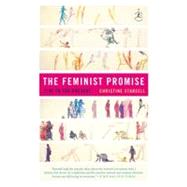 Note: Supplemental materials are not guaranteed with Rental or Used book purchases.
ISBN: 9780812972023 | 0812972023
Cover: Trade Paper
Copyright: 5/10/2011
In this sweeping, definitive volume, Christine Stansell, one of the leading historians of her generation, tells the story of one of the great democratic movements of our times. For more than two centuries, the ranks of feminists have included dreamy idealists and conscientious reformers, erotic rebels and angry housewives, dazzling writers,shrewd political strategists, and thwarted workingwomen. Well-known leaders are sketched from new angles by Stansell, with her bracingeye for character: Mary Wollstonecraft, the passionate English writer who in 1792 published the first full-scale argument for the rights of women; Elizabeth Cady Stanton, brilliant and fearless; the imperious, quarrelsome Betty Friedan. But figures from other contexts, too, appear in an unforgettable new light, including Ruth Bader Ginsburg, who in the 1970s led a revolution in the constitutional interpretations of womenrs"s rights, and Toni Morrison, whose bittersweet prose gave voice to the modern black female experience. Stansell accounts for the failures of feminism as well as the successes. She notes significant moments in the struggle for gender equality, such as the emergence in the early 1900s of the dashing"New Woman"; the passing of the Nineteenth Amendment, which granted women the right to vote; the postWorld War II collapseof suburban neo-Victorianism; and the radical feminism of the 1960s-all of which led to vast changesin Americanculture and society. The Feminist Promise dramatically updates our understanding of feminism, taking the story through the age of Reagan and into the era of international feminist movements that have swept the globe. Stansell provocatively insists that the fight for womenrs"s rights in developing countries "cannot be separated from democracyrs"s survival." A soaring work unprecedented in scope, historical depth, and literary appeal,The Feminist Promiseis bound to become an authoritative source on this essential subject for decades to come on. At once a work of scholarship, political observation, and personal reflection, it is a book that speaks to the demands and challenges-individual, national, and international-of the twenty-first century.