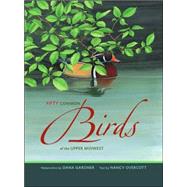 Note: Supplemental materials are not guaranteed with Rental or Used book purchases.
ISBN: 9780877459835 | 0877459835
Cover: Hardcover
Copyright: 5/1/2006
No bird is common, if we use "common" to mean ordinary. But birds that are seen more commonly than others can seem less noteworthy than species that are rarely glimpsed. In this gathering of essays and illustrations celebrating fifty of the most common birds of the Upper Midwest, illustrator Dana Gardner and writer Nancy Overcott encourage us to take a closer look at these familiar birds with renewed appreciation for their not-so-ordinary beauty and lifeways. Beginning with the garishly colored male and the more gently colored female wood duck, whose tree cavity nest serves as a launching pad for ducklings in the summer months, and ending on a bright yellow note with the American goldfinch, whose cheerful presence enlivens the midwestern landscape all year long, Overcott combines field observations drawn from her twenty-plus years of living and birding in Minnesota's Big Woods with anecdotes and data from other ornithologists to portray each species' life cycle, its vocalizations and appearance, and its habitat, food, and foraging methods as well as migration patterns and distribution. Infused with a dedication to conserving natural resources, her succinct yet personable prose forms an ideal complement to Gardner's watercolors as this renowned illustrator of avian life worldwide revisits the birds of his childhood. Together art and text ensure that the wild turkey, great blue heron, sharp-shinned hawk, barred owl, pileated woodpecker, house wren, ovenbird, field sparrow, rose-breasted grosbeak, red-winged blackbird, and forty other species of the Upper Midwest are never seen as common again.