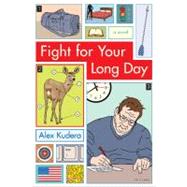 Note: Supplemental materials are not guaranteed with Rental or Used book purchases.
ISBN: 9780984510504 | 0984510508
Cover: Paperback
Copyright: 10/1/2010
Fight for Your Long Day is a day-in-the-life tragicomedy that follows the eventful unraveling of Cyrus Duffleman, a portly, down-and-out educator who teaches classes at four urban universities and works the night shift, all so he could barely stay afloat in an increasingly ¿efficient¿ service economy. This dark satire, set in the modern, super-information age of ¿terror squared,¿ embodies the American-made irony of being an overworked, overwrought and marginalized citizen in a once-wealthy and industrious country. Watermark plot points twist and turn as students protest, get laid, practice murder, and commit suicide, while ¿Duffy,¿ the novel¿s lovable loser, trudges along from pillar to post with his overstuffed book bag and perversely cynical thoughts. ¿Villains¿ run amok and feature corrupt college CEOs, stapler-wielding zealots, bow & arrow assassins, inner demons, and the inimitable antihero Duffy contending gracelessly with his own three feet. Skillfully hatched scenes and dazzling imagery make the material prime for film adaptation as a droll comedy. Think John Kennedy Toole¿s A Confederacy of Dunces meets Richard Russo¿s Straight Man.