Flashcard Study System for the CSCS Exam : CSCS Test Practice Questions and Review for the Certified Strength and Conditioning Specialist Exam
, by
Cscs Exam Secrets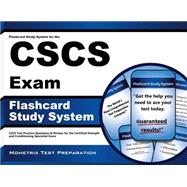 Note: Supplemental materials are not guaranteed with Rental or Used book purchases.
ISBN: 9781609715465 | 1609715462
Cover: Paperback
Copyright: 8/1/2010
Flashcard Study System for the CSCS Exam uses repetitive methods of study to teach you how to break apart and quickly solve difficult test questions on the Certified Strength and Conditioning Specialist Exam. Study after study has shown that spaced repetition is the most effective form of learning, and nothing beats flashcards when it comes to making repetitive learning fun and fast. Our flashcards enable you to study small, digestible bits of information that are easy to learn and give you exposure to the different question types and concepts. Flashcard Study System for the CSCS Exam covers: Exercise, Pathology, Anatomy/ Physiology, Miscellaneous, General Exercise Principles, Adhesive Capsulitis, Type I vs. Type II Fibers, Physical Activity Readiness Questionnaire, Class-1 Lever, Diabetes Mellitus, Sarcomere, Responsibilities of the Trainer, Deadlift Technique, HIV and AIDS, Action Potential, Fluid Replacement, Full Squat Technique, Osteoporosis, Smooth Muscle, Tanner Scale, Core lifts, Osteoarthritis, Muscle fiber, Karvonen Formula, Breathing patterns, Jumper's knee, Cardiac Control Center, Borg Rating of Perceived Exertion Scale, Principle of Specificity, Atherosclerosis, Receptor Types, Ethical Decision Making, Cross Training, Ischemic Heart Disease, Anabolism vs Catabolism, Concave/Convex rule, Progression, Bulimia, Right vs. Left Lung, PNF Stretches, Exercise Ball Size, Angina, Tendon vs. Ligament, Supplements, Lat Pulldown Technique, Rheumatoid Arthritis, Liver Function, Protein, and much more...