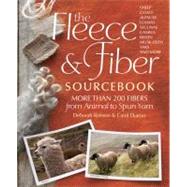 Note: Supplemental materials are not guaranteed with Rental or Used book purchases.
ISBN: 9781603427111 | 1603427112
Cover: Hardcover
Copyright: 6/1/2011
Most Knitters, Spinners, Weavers, and other fiber artists can't get enough of their craft. They love what they do, and they love to know more about the materials that they work with. Animal raisers are similarly passionate, with a recurring thirst for information about the animals they have, and the ones they dream of having. Created with both groups in mind, The Fleece and Fiber Sourcebook is a one-of-a-kind photographic encyclopedia of more than 200 animals and the fibers they produce. It covers almost every sheep breed in the world -- the longwool breeds of the United Kingdom, the Tasmanian merino, the Navajo churro, the northern European Faroese, and dozens more. It also includes goats (mohair and cashmere, of course): camelids, such as alpacas, llamas, and vicunas; bison; horses; musk oxen; rabbits; and even dogs. Each spread includes photographs of the featured animal; samples of its raw fleece, its cleaned fleece, and yarn spun from the fleece; and samples of that yarn knit and woven. In some cases, products that can be made from the knit or woven yarn are also shown, such as a shawl made from Hebridean wool and a fascinating horsehair chachvan. Readers will find everything they want to know about each animal and its fiber, including the fiber's color, density, strength, and staple length, and recommendations for processing and using it. They'll also find expert information on breed conservation and heritage breed propagation; easy-to-use charts and boxes for quick reference; and a comprehensive resource section. No other book covers so many fiber animals. No other book covers fiber animals in such detail. And no other book comes close to offering what this book provides. At once a stunning collection of photographs, a can't-put-down reading book, and an inexhaustible source of expert information, this is the book no fiber-or animal-lover can be without.