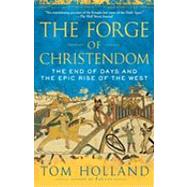 Note: Supplemental materials are not guaranteed with Rental or Used book purchases.
ISBN: 9780307278708 | 0307278700
Cover: Trade Paper
Copyright: 6/1/2010
In AD 900, few would have guessed that the splintering kingdoms of Christendom were candidates for future greatness. Hemmed in by implacable enemies on three sides, and by ocean on the fourth, it seemed that the Christian people had nowhere to turn. Indeed, there were many who fearedcast in the Millennium's shadowthat they were nearing the time when the Antichrist would appear, drowning the world in blood and heralding its end. But the Antichrist did not appear, and Christendom did not collapse. Instead, forged from the convulsions of those terrible times, there emerged a new civilization as the Christian people set to the heroic task of building a Jerusalem on earth themselves. With an epic sweep that transports us from the crucifixion to the First Crusade, and from the glitter of Constantinople to the bleak shores of Canada, Tom Holland'sThe Forge of Christendomis a brilliant study of a truly fateful revolution: the emergence of Western Europe for the first time as a distinctive and expansionist power. It was the age of Otto the Great and William the Conqueror, of Caliphs and Viking sea-kings, of hermits, monks, and serfs. It witnessed the spread of castles, the invention of knighthood, and the founding of a papal monarchy. Above all, it brought people to fear that the end days might be at hand, and yet alsowith an effort so prodigious that it has the power to move us stillto invent themselves anew. A momentous achievement: for this was nothing less than the founding of the modern West. It is an epic story that Tom Holland renders with the narrative skill and wide-angled scope of a novelist and the careful scholarship a historian. It will transform its readers' conception of the origins of the Modern West.