Frank Lloyd Wright 1885-1916: The Complete Works / Das Gesamtwerk / L'oeuvre Complete
, by
Pfeiffer, Bruce Brooks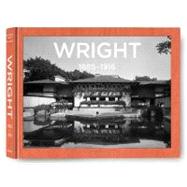 Note: Supplemental materials are not guaranteed with Rental or Used book purchases.
ISBN: 9783836509275 | 383650927X
Cover: Hardcover
Copyright: 6/11/2011
The definitive publication on Americars"s greatest architect Frank Lloyd Wright(1867-1959) is widely considered to be the greatest American architect of all time; indeed, his work virtually ushered in the modern era and remains highly influential today. His wide-ranging and paradigm-shifting oeuvre is the subject of TASCHEN'sthree-volume monograph that covers all of his designs(numbering approximately 1100), both realized and unrealized. Madein cooperation with the Frank Lloyd Wright Archivesin Taliesin, Arizona, this collection leaves no stone unturned in examining and paying tribute to Wright's life and work. From his early Prairie Houses (typified by the Robie House) to the Usonian concept home and progressive "living architecture" buildings to late projects like the spiral Guggenheim Museum in New York and the development of his fantastic vision of a better tomorrow via his concept of the "living city," all of the phases of Wright's career are painstakingly described and illustrated herein. Author and preeminentWright expert Bruce Brooks Pfeiffer highlights the latest research and gives fresh insight into the work, providing new dating for many of the plans and houses. A plethora ofpersonalphotosgives readers a feeling of what it was like to work in Frank Lloyd Wright's fellowship, traveling each spring from Taliesin West to the old Taliesin complex in Wisconsin and returning the next fall to spend the winter in sunny Arizona again. This volume,Volume 1, covers the early Chicago years and the Prairie Houses, the period which provoked a profound influence on European architects. Wright's architectural work during these early years was mostly residential, as it would be throughout his career, and from his earliest work, Frank Lloyd Wright demonstrated a knowledge of and respect for natural materials. In the ten yearsbetweeen 1896 and 1906 he developed and perfected the so-called "prairie house."Wright believed the architect should have complete charge of architectural design, and for him this meant interior furnishings as well as exterior landscape. He was not often given this freedom, but the 1908AveryCoonley residencein Riverside, Illinois is one of the finest examples. With the administration building for the Larkin Soap Company (19031905) and the Unity Temple (1905) he could realize bigger commissions. In 1910 he worked on his famouspublication "Ausgefuuml;hrte Bauten und Entwuuml;rfe" for the German publisher Wasmuth, which brought his ideas to a worldwide recognition. Thepersonal tragedy of 1914brought a shadow over his successful, but struggled life: A servant at Taliesin had set fire to the residence and murdered his mistress Mamah, her two children, a draftsman, and three workmen. But this could not stop Wright on his permanent search for a new architecture.