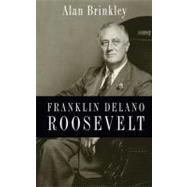 Note: Supplemental materials are not guaranteed with Rental or Used book purchases.
ISBN: 9780199732029 | 0199732027
Cover: Hardcover
Copyright: 12/30/2009
This short biography of the thirty-second president chronicles his rise from a childhood of privilege to a presidency that forever changed the face of international diplomacy, the American party system, and the United States government's role in global and domestic policy. In just over 100 pages, Alan Brinkley, the renowned New Deal historian, provides a clear, concise introduction to Roosevelt's acchievements and legacy. The narrative moves swiftly from Roosevelt's youth in upstate New York-characterized by an aristocratic lifestyle of trips to Europe and private tutoring-to his schooling at Harvard, his brief law career, and his initial entry into politics. From there, Brinkley chronicles Roosevelt's rise to the presidency, a position in which FDR remained until death, through an unparalleled three+ terms in office. Throughout, Brinkley elegantly blends FDR's personal life with his professional one, providing a lens into the president's struggles with polio and his somewhat distant relationship with the first lady. FDR's innovations during his presidency are more resonant now than ever before. His founding of the New Deal during the greatest economic catastrophe this country has seen, led the way for the current administration and its implementation of deficit spending. Brinkley describes FDR's legacy and how it relates to current executive decisions in the book's introduction. Notes and a bibliography ensure that the curious reader will have an entry into further scholarship.