Fundamentals of Research in Criminology and Criminal Justice
, by
Ronet Bachman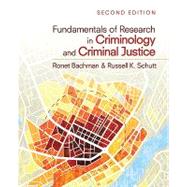 Note: Supplemental materials are not guaranteed with Rental or Used book purchases.
ISBN: 9781412991766 | 1412991765
Cover: Paperback
Copyright: 3/8/2011
Fundamentals of Research in Criminology and Criminal Justice is a concise resource for understanding the multifaceted subject of research methods in the field of criminology and criminal justice. This book uniquely helps to teach research design and techniques within the context of substantive criminology and criminal justice issues of interest to students and the field. This is a briefer version of Ronet and Russ's successful The Practice of Research in Criminology and Criminal Justice, written in a less formal style, with more concise examples drawn from everyday experience, and less coverage of complex or more rigorous methods. This is an excellent introductory methods text for undergraduate research courses in the fields of Criminal Justice and Criminology. It is ideal for students who need to understand how criminal justice research is done and appreciate the results, but may never do research themselves in the professional lives.Features of the Brief Edition:- the examples throughout the book integrate substantive criminal justice issues with research with a greater emphasis in the third edition on the major branches of the criminal justice system.- integrates policy throughout Chapter 9, and discusses policy implications for research methods throughout the text- integrates coverage of units of analysis in Chapter 2- extensive use of graphics in every chapter facilitates students' understanding of concepts discussed- contains extensive, updated exercise sets include Practice Exercises, Web research activities, SPSS exercises, Developing a Research Report activities- includes a robust Student Study Site which includes GSS data sets, Appendixes on using quantitative and qualitative software, a demo for HyperResearch's popular qualitative analysis software, a sample research proposal, as well as a variety of interactive exercises for students to do on their own.New to the 2nd edtion1. New chapter on research ethics (Ch.3) that includes Zimbardo's prison experiment and Milgram's research on obedience to authority.2. New coverage of evidence-based research and videos used for research3. Updated discussion of causation that includes more field experiments and other unique methods.4. New Case studies on effectiveness of drug courts, combining focus groups with official police records, homicide across nations,using Google Earth to track recidivism among sex offenders, evaluating the D.A.R.E. program, seeking higher education for inmates, among others.5. Exercises available to use with Excel.