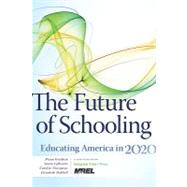 Note: Supplemental materials are not guaranteed with Rental or Used book purchases.
ISBN: 9781935542452 | 1935542451
Cover: Paperback
Copyright: 10/31/2010
Although much about the future is uncertain, trends reveal patterns of behavior that help to resolve some of that uncertainty. McREL has thoroughly researched and tracked these trends to provide readers with a glimpse into the future world of education. The Future of Schooling presents four scenarios of education in 2020. Scenarios are carefully researched stories, full of detail about current and emerging trends that adds credibility and brings forth new understandings. Scenarios are not predictions of the future. They are plausible representations of what could happen. McREL has researched not only those factors that relate specifically to education but also the political environment, the economy, security issues, technological innovations, and social values┐all of which will impact and contribute to the unfolding of the future of education. The scenarios in The Future of Schooling were built upon questions such as: ┐ What if the current, multibillion-dollar federal investment in education succeeds in identifying and scaling up numerous innovations that transform schooling as we know it? ┐ What if, on the other hand, investing billions of new dollars fails to create dramatic improvements in education? Will the public continue to support public schools as we know them? ┐ What if online learning becomes as commonplace in the schools of tomorrow as chalkboards were in the schools of yesterday? ┐ What if technology allows students to proceed at their own pace along individualized pathways, measuring their progress in real time at each step of the way? ┐ What if the world┐s best teachers are able to broadcast their lessons to thousands of students each day? By analyzing their content and discussing their implications, the scenarios offered in The Future of Schooling can help educators identify the actions they should take today to maximize their chances of success tomorrow.