The Gambler King of Clark Street: Michael C. Mcdonald and the Rise of Chicago's Democratic Machine
, by
Lindberg, Richard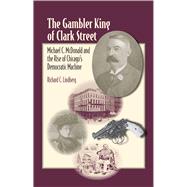 Note: Supplemental materials are not guaranteed with Rental or Used book purchases.
ISBN: 9780809328932 | 0809328933
Cover: Hardcover
Copyright: 6/12/2009
The Gambler King of Clark Street: Michael C. McDonald and the Rise of Chicago's Democratic Machinetells the story of a larger-than-life figure who fused Chicago's criminal underworld with the city's political and commercial spheres to create an urban machine built on graft, bribery, and intimidation. In this first ever biography of McDonald, author Richard C. Lindberg vividly paints the life of the Democratic kingmaker against the wider backdrop of nineteenth-century Chicago crime and politics. Twenty-five years before Al Capone's birth, Michael McDonald was building the foundations of the modern Chicago Democratic machine. By marshaling control of and suborning a complex web of precinct workers, ward and county bosses, justices of the peace, police captains, contractors, suppliers, and spoils-men, the undisputed master of the gambling syndicates could elect mayoral candidates, finagle key appointments for political operatives willing to carry out his mandates, and coerce law enforcement and the judiciary. The resulting machine was dedicated to the supremacy of the city's gambling, vice, and liquor rackets during the waning years of the Gilded Age. McDonald was warmly welcomed into the White House by two sitting presidents who recognized him for what he was: the reigning "boss" of Chicago. In a colorful and often riotous life, McDonald seemed to control everything around himeverything that is, except events in his personal life. His first wife, the fiery Mary Noonan McDonald, ran off with a Catholic priest. The second, Dora Feldman, twenty-five years his junior, murdered her teenaged lover in a sensational 1907 scandal that broke Mike's heart and drove him to an early grave. Michael McDonald's name has long been cited in the published work of city historians, members of academia, and the press as the principal architect of a unified criminal enterprise that reached into the corridors of power in Chicago, Cook County, the state of Illinois, and all the way to the Oval Office.The Gambler King of Clark Streetis both a major addition to Chicago's historical literature and a revealing biography of a powerful and troubled man.