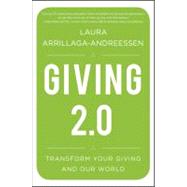 Note: Supplemental materials are not guaranteed with Rental or Used book purchases.
ISBN: 9781118119402 | 1118119401
Cover: Hardcover
Copyright: 10/25/2011
Today, anyone who cares about the health of our planet and the people who live on it recognizes that we need to do more with less. Philanthropic resources are ever more tightly stretched, while big problems demand increasingly complex solutions. As a result, anyone who gives should be looking to channel their precious resources into new forms of giving-partnering with others, pooling funds through collaborative giving, inventing new, entrepreneurial models of social investment, and applying more rigorous performance measurement to everything they do philanthropically. Whether donating a few hundred dollars a year or a few hundred thous∧ whether giving their time or expertise, Giving 2.0 will expose readers to established best practices as well as a vast spectrum of giving innovations. It will provide an inspirational "how to" guide for donors of every level, based on research, application and, most importantly, the personal experiences of individual philanthropists across the country. It will explain how to take stock, change direction, renew existing strategies, acquire critical skills, and create or participate in exciting new models of giving. At last count, three-quarters of America's families gave money to charity. In fact, huge donors do not dominate philanthropy. Big headline gifts represent only a minute fraction of total giving. Gifts from foundations and the super-wealthy account for just 6 percent of the funding donated to America's nonprofits every year. And while prominent foundations tend to make the headlines, of the more than 70,000 philanthropic foundations registered in the U.S., at least half are family foundations that give small amounts of money. About 60 percent of these family foundations have less than $1 million in assets (and so give away $50,000 or less per year), and of those 93 percent have no staff. Meanwhile, between 61 and 63 million Americans volunteered in 2009, donating generously with their time, expertise, and experience. Even when wallets are stretched, Americans still prioritize their giving. They are also increasingly using technology to do so–online giving increased by more than 34 percent in 2010 to almost 8 percent of all giving. And the less well off give far more generously than the rich. As a proportion of their assets, middle class and lower income households give twice as much to charity as the wealthy. In short, individual donors are the backbone of U.S. giving. Giving 2.0 is for these donors. Giving 2.0 will be the first book for individual givers written by an individual giver. Media coverage of philanthropy tends to focus on gifts of financial capital-often ones that run into millions or billions of dollars-while most of the books on philanthropy published in the past decade feature big-name, big-buck donors or the sophisticated, highly technical world of foundation funding.