The Global Entrepreneur: How To Create Maximum Personal Wealth In The New Global Economic Era
, by
Williams, Ervin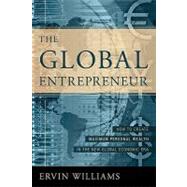 Note: Supplemental materials are not guaranteed with Rental or Used book purchases.
ISBN: 9780595330379 | 0595330371
Cover: Paperback
Copyright: 1/30/2005
WEALTH CREATING BUSINESS OPPORTUNITIESWHO ARE GLOBAL ENTREPRENEURS?There is a new breed of entrepreneurs today - the Global Entrepreneur. They are different from past entrepreneurs; they are completely wired for Information Age businesses, they know how to harness knowledge and technology, and frequently engage a network of global business partners to help operate their international ventures.The Global Entrepreneur understands that the soft assets of knowledge and technology are greater creators of wealth than hard assets such as land, equipment, factories and mines. They realize the management models and organizational paradigms of the Industrial Era are giving way to a fresh appreciation of virtualization, strategic alliances, empowerment of individuals, and a new understanding that plentitude creates wealth.What is really new is that Global Entrepreneurs frequently use virtual organizations, virtual products, and micro-virtual manufacturing processes to develop efficient global ventures. They are strongly motivated towards creating a global enterprise for generating substantial personal wealth. WHO SHOULD BUY THIS BOOK?There are three individual groups who will substantially benefit from reading this book.>>Nascent Entrepreneurs. These are individuals who are thinking about owning a business, but haven't taken the leap. This book provides a roadmap and shows you the essential elements for starting a successful business.>>Small Business Owners. Small and medium enterprises are finding it increasingly difficult to achieve new growth in today's economic environment. This book shows business owners how to explore and find extraordinary growth in developing fast-growing foreign markets.>>Students. College students in the 1600 U.S. institutions that teach entrepreneurship can use this book to better understand the dynamic contribution of entrepreneurship to world economic growth and wealth creation.WHAT IS THE ROUTE FOR WEALTH CREATION?Very few people become wealthy working for others. But don't quit your job! Instead, seek the most challenging position possible involving creativity, unique knowledge, and advance technology. Master that position in every possible dimension and, when appropriate, establish it as the basis of your new wealth-generating venture.