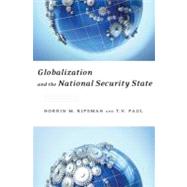 Note: Supplemental materials are not guaranteed with Rental or Used book purchases.
ISBN: 9780195393903 | 0195393902
Cover: Hardcover
Copyright: 3/18/2010
In the past two decades, many have posited a correlation between the spread of globalization and the decline of the nation-state. In the realm of national security, advocates of the globalization thesis have argued that states' power has diminished relative to transnational governmental institutions, NGOs, and transnational capitalism. Initially, they pointed to declines in both global military spending (which has risen dramatically in recent years) and interstate war. But are these trends really indicative of the decline of nation-state's role as a guarantor of national security? In Globalization and the National Security State, T.V. Paul and Norrin Ripsman test the proposition against the available evidence and find that the globalization school has largely gotten it wrong. The decline in interstate warfare can largely be attributed to the end of the Cold War, not globalization. Moreover, great powers (the US, China, and Russia) continue to pursue traditional nation-state strategies. Regional security arrangements like the EU and ASEAN have not achieved much, and weak states - the ones most impacted by the turmoil generated by globalization - are far more traditional in their approaches to national security, preferring to rely on their own resources rather than those of regional and transnational institutions. This is a bold argument, and Paul and Ripsman amass a considerable amount of evidence for their claims. It cuts against a major movement in international relations scholarship, and is sure to generate controversy.