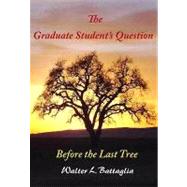 Note: Supplemental materials are not guaranteed with Rental or Used book purchases.
ISBN: 9780978812645 | 0978812646
Cover: Hardcover
Copyright: 12/31/2005
The Graduate Student¿s Question presents the political and social philosophy underlying the author¿s Utopian quest. SOCIAL THEORY: Societies are collections of cultural practices. Culture is represented in the remembered beliefs, habits and rituals which guide each person¿s behavior. People practice many different cultures. Each culture develops its own standards during its evolution, which need not conform to any general standard. Human cultures can even defy environmental limitations for a while. This raises the question, which human cultures meet human needs and desires? POLITICAL THEORY: The Ideal State is a modern invention, founded on the French Revolutionary slogan: ¿Liberty, Equality Fraternity!¿ Realizing an Ideal State requires arranging the government, society and economy along democratic and communitarian lines. The Welfare State as practiced in Europe and Canada, but not in the United States, is based on a conception of the Ideal State. The Ideal State is inconsistent with unfettered Capitalism and most Social Contract theories, because, above all, the Ideal State provides for human welfare, not fulfillment of abstract principles. The Ideal State is not a machine, but changes its form and function as circumstances and human judgments require: it is a flexible container of human societies. The Ideal State lasts longer than other forms of government because it is not rigid. It is less likely to collapse because its citizens are more socialized and mindful of their environment. While rigidly structured societies can last a long time, they are likely to shatter when confronted with changed conditions and severe problems. HISTORICAL THEORY: Societies rise and fall. Collapse can be postponed for a long time, if people choose to live in accord with Nature. This requires knowledge of Gaia, our biological planet, and the wisdom of self-control. When people abuse the environment, lack social conscience and do not regulate themselves, Darwinian factors eventually exterminate them. The regulated, social democracy of the Ideal State is a good plan for societies seeking long term survival.