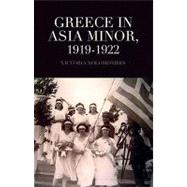 Note: Supplemental materials are not guaranteed with Rental or Used book purchases.
ISBN: 9780231702188 | 0231702183
Cover: Hardcover
Copyright: 10/30/2018
In 1919, at the behest of the First World War allies, Greece entered Smyrna and the Vilayet of Aidin, occupying their territories until the finalization of the Ottoman peace treaty. Their stated mission was to protect Greek and other Christian communities from the Turkish nationalists, but the underlying motive was a ruthless pursuit of the age-old "Great Idea," which aimed to absorb unredeemed Hellenes into the bosom of the Greek Kingdom. Despite a bungled military landing and other challenges, High Commissioner Aristidis Stergiadis heroically governed over the disparate population, adhering to a doctrine of peaceful coexistence. The odds, however, were overwhelmingly against him, and in September of 1922, Turkish nationalists gutted the Greek Army and expelled Hellenism from Asia Minor. Victoria Solomonidis reclaims the pioneering work of the Greek administration of Smyrna, which had to contend with postwar Allied relations, major foreign financial interests, the plight of Christian minorities in Turkey, the inexorable rise of Turkish nationalism, fraught domestic politics, and uneven developments in both military and diplomatic negotiations. Solomonidis reassesses the work and reputation of Stergiadis, a reluctant yet dedicated public servant, and challenges the view that he was responsible for the Smyrna catastrophe.