Hack the Planet : Science's Best Hope - Or Worst Nightmare - For Averting Climate Catastrophe
, by
Kintisch, Eli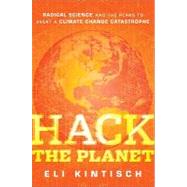 Note: Supplemental materials are not guaranteed with Rental or Used book purchases.
ISBN: 9780470524268 | 047052426X
Cover: Hardcover
Copyright: 4/19/2010
An inside tour of the incredible-and probably dangerous-plans to counteract the effects of climate change through experiments that range from the plausible to the fantasticEarth's climate crisis looms over us on a daily basis, and while cutting greenhouse emissions might have an effect in the future, the potential for a climate-based catastrophe remains. An agricultural collapse, a terrible drought, or widespread flooding-each would force nations to act quickly, but what actions could they take? While politicians and the public have dithered and delayed, a community of scientific outsiders has been hard at work coming up with radical potential solutions. Known as geoengineering, the work of these scientists represents the first time prominent researchers have contemplated purposefully tinkering with global planetary systems, marking a new phase of humanity's dominance over the planet.In Hack the Planet, Eli Kintisch (Science magazine) investigates geoengineering and the different scenarios proposed by the scientists exploring it, from making cement out of coal plant exhaust to brightening clouds. The options are wild, the science big, and the moral and political issues trenchant. Along the way, readers will also: Learn about the mind-boggling plans geoengineers are proposing to combat global warming, from growing algae blooms in the ocean (to capture carbon) to adding pollution to the atmosphere (to deflect the sun's rays) Explore the science behind each plan, as well as the related ethical and geopolitical questions that could forever alter our relationship with nature Become versed in the four key scenarios where climate change could be so quick and cataclysmic-much like the economic collapse of 2008-that we would need a global climate bailout in order to survive Follow the scientists-brilliant and sometimes outlandish characters-as they work to make their dreams a realityWith tons of carbon dioxide pouring into our atmosphere every second, long-term solutions might prove inadequate to stave off a climate disaster. Hack the Planet takes you to the front lines as scientists devise radical new steps to reshape a planet in peril.