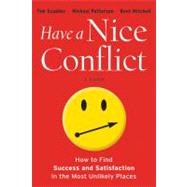 Note: Supplemental materials are not guaranteed with Rental or Used book purchases.
ISBN: 9781118202760 | 1118202767
Cover: Hardcover
Copyright: 1/24/2012
This novel approach to conflict follows the journey of middle manager, John Doyle, as he fights to save his relationships and rescue his sinking career. Based on the research of pioneering psychologist, clinical therapist, and educator Dr. Elias H. Porter (1914 - 1987), the book and learning experience reveal practical conflict management techniques that consistently lead to better results, stronger relationships, and a reinforced sense of self-worth for all involved. HAVE A NICE CONFLICT includes: Specific techniques and a practical approach to prevent and manage conflicts. A relational approach to conflict that gets tangible results while enhancing relationships. Ways to identify conflict triggers in ourselves and others. The Five Keys to Having a Nice Conflict The Five Keys to Having a Nice Conflict are: Anticipate: Anticipating conflict starts with knowing who you're dealing with and then asking yourself how other people might view the same situation differently. When two or more people see things differently, there is the potential for conflict. If you can figure that out, you have a good shot at steering clear of it. Prevent: Preventing conflict requires the deliberate, appropriate use of behavior in your relationships. A well-chosen behavior on your part can prevent conflict with another person. But you need to prevent conflict in yourself sometimes too, and that might have more to do with choosing your perceptions than choosing your behaviors. Identify: There are three basic approaches in conflict: rising to the challenge (assert), cautiously withdrawing (analyze), or wanting to keep the peace (accommodate). When you can identify these approaches in yourself and others, you are empowered to handle conflict situations more productively. Manage: Managing conflict has two components: managing yourself and managing the relationship. Managing conflict is about creating the conditions and empowering others to manage themselves. Resolve: To create movement toward resolution, we need to show the other person a path back to feeling good about themselves. When they feel good about themselves, they are less likely to feel threatened and are free to move toward a resolution.