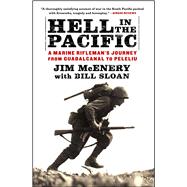 Note: Supplemental materials are not guaranteed with Rental or Used book purchases.
ISBN: 9781451659146 | 1451659148
Cover: Paperback
Copyright: 6/11/2013
A no-holds-barred, brutally frank memoir about one Marine's life on the front linesand the sacrifices, suffering, and raw courage of the men in foxholes, locked in mortal combat with an enemy sworn to fight to the death. For three bone-wearying years, Marine rifleman Jim McEnery was on the front lines of combat in the Pacific during World War II. He knows what hand-to-combat is like and what runs through your mind as you try to kill someone who is trying to kill you. In this extraordinarily vivid memoir, McEnery takes you back to the sweltering jungles of the Pacific to experience his life on the front lines, revealing how he came to terms with his actions in the heat of combat. As the leader of a Marine rifle squad, McEnery fought in the thick of frontline action, seeing friends and comrades killed and wounded within a few feet of him. At Guadalcanal, McEnery was among the first few hundred Marines in the invasion's initial wave. His firsthand memories of that day and the next four months of fighting provide a searing close-up of perhaps the most important Pacific battle of the war. From the victory at Guadalcanal, McEnery moved on to the Battle of Cape Gloucester, where his closest buddy was tragically killed by friendly fire. Months later, McEnery found himself engaged against the Japanese on the rugged ridges of the island of Peleliu, where one of the bloodiest battles of the Pacific War took place. There he assumed command of his company after the commanding officer was killed, directing artillery fire that helped speed the final defeat of the Japanese. In what may well be the last memoir published by a veteran of the pivotal invasion of Guadalcanal, Jim McEnery and military authority Bill Sloan offer an unforgettable and gut-wrenching chronicle of heroism and horror.