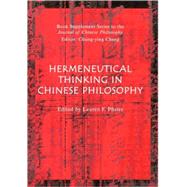 Note: Supplemental materials are not guaranteed with Rental or Used book purchases.
ISBN: 9781405167895 | 1405167890
Cover: Paperback
Copyright: 1/2/2007
This volume is devoted to studying the emergence and flourishing of new humanistically informed developments in philosophical hermeneutics within contemporary Chinese philosophy. By means of some articles published previously in the Journal of Chinese Philosophy in the 1970s and 1980s, questions about the nature of philosophical understanding and the diversity of hermeneutic options in Chinese indigenous teachings - including Ruist ( "Confucian "), Daoist, and Chinese Buddhist realms of exploration - are reintroduced. These include an insightful discussion of a "dialectics of harmonization " that gives structure to Ruist and Daoist philosophies and forms of life by Chung-ying Cheng as well as a clever essay on hermeneutics in the Zhuangzi by Kuang-ming Wu. Following these seminal essays, a number of new pieces written by philosophers and sinologists active in evaluating basic orientations toward philosophical understanding in China are presented. Some offer new insights into the confluence of Gadamarian and Ruist approaches to philosophy, while others employ more critical methods to indicate why serious hermeneutic inquiries into these indigenous traditions and their most representative texts reveal significant challenges for any reader. The focus of this volume centers on issues arising in early Ruist and Daoist texts - the Yijing or Book of Changes, the Analects, the Daodejing and the Zhuangzi - and then moves to examine hermeneutic claims asserted in the synthetic philosophical efforts of Zhu Xi (1130-1200). In the March 2007 issue of the Journal of Chinese Philosophy a sequel to this discussion will appear, one which deals with modern and contemporary Chinese hermeneutics.