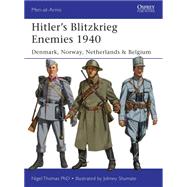 Note: Supplemental materials are not guaranteed with Rental or Used book purchases.
ISBN: 9781782005964 | 178200596X
Cover: Paperback
Copyright: 2/18/2014
The armies of Scandinavia and the Low Countries bore the first crushing impact of Hitler's mighty Blitzkrieg war machine in Western Europe, in campaigns that astonished and terrified the world.
The German Wehrmacht was millions strong, equipped with the latest guns, tanks and aircraft, and had the priceless advantage of having learned the realities of modern warfare in Poland the previous September. The defenders of Scandinavia and the Low Countries were raised from small populations, and were inadequately funded, trained, equipped and armed. Their modest numbers, inexperience, and largely indefensible borders condemned them to rapid defeat - in a few hours (Denmark), a few days (Holland), a couple of weeks (Belgium), and at most two months (Norway). For this reason they have tended to be neglected by history - in many cases, unjustly. Vastly outnumbered - and, in the case of the neutral Low Countries, with their potential French and British allies reeling under simultaneous attacks - thousands of soldiers fought heroically in the hopeless defence of their homelands against the Nazi juggernaut.
Tiny Denmark had only 6,600 troops when it was invaded on 9 April 1940 by six times as many Germans with air and tank support; resistance lasted only four hours. On the same day, mountainous Norway, with 25,000 men mainly scattered in small numbers along its cliff-bound coastline, was invaded by the first elements of seven German seaborne and airborne divisions totalling 100,000 men. A British, French and Free Polish force landed to support the Norwegians, but despite the serious casualties inflicted on the German forces the country was finally forced to surrender two months later on 9 June 1940.
In the mean time the massive German Operation Yellow, undertaken by 2.75 million troops backed by strong air forces, had fallen on the neutral Netherlands and Belgium (10 May), and on France (16 May). The 250,000 Netherlands troops put up unexpectedly stubborn resistance, but were ordered to surrender on 15 May after the German bombing of Rotterdam. Belgium had mobilised some 900,000 troops, and received some help from Britain and France, but the resistance faltered as Panzergruppe Von Kleist outflanked them through the supposedly impassable Ardennes; Belgium requested an armistice on 26 May, and surrendered on the 28th. Between 26 May and 4 June the survivors of the British Expeditionary Force were evacuated from Dunkirk. On 10 June the Germans crossed the Seine; the French government fled Paris on the 12th; on the 17th Marshal Pťtain requested an armistice, and France finally capitulated on 22 June.
Informed by the latest research and drawing upon archival records and period photography, this absorbing study explains the organization and combat performance and depicts the appearance of the armies of Denmark, Norway, the Netherlands and Belgium as they sought to counter overwhelming German forces in the fateful spring of 1940.