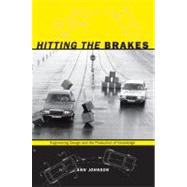 Note: Supplemental materials are not guaranteed with Rental or Used book purchases.
ISBN: 9780822345411 | 0822345412
Cover: Paperback
Copyright: 11/1/2009
InHitting the Brakes, Ann Johnson illuminates the complex social, historical, and cultural dynamics of engineering design, in which knowledge communities come together to produce new products and knowledge. Using the development of anti-lock braking systems for passenger cars as a case study, Johnson shows that the path to invention is neither linear nor top-down, but highly complicated and unpredictable. Individuals, corporations, university research centres, and government organizations informally coalesce around a design problem that is continually refined and redefined as paths of development are proposed and discarded, participants come and go, and information circulates within the knowledge community. Detours, dead ends, and failures feed back into the developmental process, so that the end design represents the convergence of multiple, diverse streams of knowledge. The development of anti-lock braking systems (ABS) provides an ideal case study for examining the process of engineering design, because it presented an array of common difficulties faced by engineers in research and development. ABS did not develop predictably, research and development took place in both the public and private sectors, and its development involved individuals working in different disciplines, languages, institutions, and corporations. Johnson traces ABS development from its first patents in the 1930s to the successful 1978 market introduction of integrated ABS by Daimler and Bosch. She examines how a knowledge community first formed around understanding the phenomenon of skidding, before it turned its attention to building instruments to measure, model, and prevent cars' wheels from locking up. While corporations' accounts of ABS development often present a simple and linear story,Hitting the Brakesdescribes the full social and cognitive complexity and context of engineering design.