Hobos, Hustlers, and Backsliders : Homeless in San Francisco
, by
Gowan, Teresa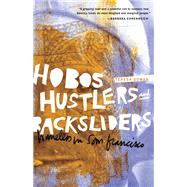 Note: Supplemental materials are not guaranteed with Rental or Used book purchases.
ISBN: 9780816669677 | 0816669678
Cover: Paperback
Copyright: 7/28/2010
When homelessness reemerged in American cities during the 1980s at levels not seen since the Great Depression, it initially provoked shock and outrage. Within a few years, however, what had been perceived as a national crisis came to be seen as a nuisance, with early sympathies for the plight of the homeless giving way to compassion fatigue and then condemnation. Debates around the problem of homelessnessoften set in terms of sin, sickness, and the failure of the social systemhave come to profoundly shape how homeless people survive and make sense of their plights. InHobos, Hustlers, and Backsliders, Teresa Gowan vividly depicts the lives of homeless men in San Francisco and analyzes the influence of the homelessness industry on the streets, in the shelters, and on public policy.Gowan shows some of the diverse ways that men on the street in San Francisco struggle for survival, autonomy, and self-respect. Living for weeks at a time among homeless menworking side-by-side with them as they collected cans, bottles, and scrap metal; helping them set up camp; watching and listening as they panhandled and hawked newspapers; and accompanying them into soup kitchens, jails, welfare offices, and sheltersGowan immersed herself in their routines, their personal stories, and their perspectives on life on the streets. She observes a wide range of survival techniques, from the illicit to the industrious, from drug dealing to dumpster diving. She also discovered that prevailing discussions about homelessness and its causeshomelessness as pathology, homelessness as moral failure, and homelessness as systemic failurepowerfully affect how homeless people see themselves and their ability to change their situation.Drawing on five years of fieldwork, this powerful ethnography of men living on the streets of the most liberal city in America,Hobos, Hustlers, and Backsliders, makes clear that the way we talk about issues of extreme poverty has real consequences for how we address this problemand for the homeless themselves.