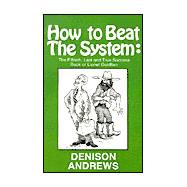 Note: Supplemental materials are not guaranteed with Rental or Used book purchases.
ISBN: 9780759238787 | 0759238782
Cover: Paperback
Copyright: 12/1/1999
Contrary to popular belief, you can beat the system. So says Lionel Goldfish, once hailed as the Simenon of Success; the Asimov of Achievement, the octogenarian narrator of this extraordinarily funny novel by Denison Andrews. Disturbed by current trends in American society, Lionel Goldfish has come out of retirement to write his fiftieth and final success book. He has chosen the old formula of the success biography, the story of a shoeshine boy who made good. But all resemblance to Horatio Alger quickly disappears when we discover that the shoeshine boy, Rene Benet, is thirty-seven years old and one of the least honorable characters in recent fiction. Surprisingly, his story, told over many shines, causes Goldfish to repent his lifetime's labor. The story of Rene Benet, the man who beat the system, opens with one dazzling day in 1969 when our hero, driven by chronic lechery and a pathological aversion to work, loses career, marriage, and all pretense of respectability and goes off with a voluptuous hitchiker to a rock concert in Woodstock, New York. So begins a series of outrageous adventures where the monstrous world he comes to inhabit is filled with so many seedy, scheming characters that even he becomes a Pinnochio-like innocent in contrast. Our hero finally finds himself inside The System itself where he comes face to face, and duels with, its Boss. His spectacular escape gives the aged narrator, Lionel Goldfish, and all his readers the answer: how to beat the system. Denison Andrews takes on marriage, divorce, academia, the counter-culture, the rich, the poor, the middle class, Harvard, Santa Claus, drugs, the ethical drug industry, feminists, and anti-feminists with ripping humor. Above all, HOW TO BEAT THE SYSTEM lambastes our basic values of hard work and success. From the Silent Generation of Rene Benet to the adolescent cultural revolution of the late sixties, the author has a great deal to say about values, about ideals gained and ideals lost, and about what has happened to the greening of America.