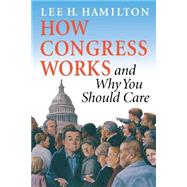 Note: Supplemental materials are not guaranteed with Rental or Used book purchases.
ISBN: 9780253216953 | 0253216958
Cover: Paperback
Copyright: 3/1/2004
"Lee Hamilton's new book... should be required reading for any American contemplating writing a 'Letter to the Editor' or calling into (or hosting) a radio talk show, or for that matter, stepping into a voting booth. It is an owner's manual for citizens interested in their Congress." -- Charlie Cook, Editor and Publisher, The Cook Political Report"... a passionate and eloquent defense of the essential role Congress plays in the American constitutional system and a reasoned call for citizens to engage more actively in their representative democracy. Like Hamilton himself, this volume is scrupulously honest, fair-minded, and accessible to a wide audience." -- Thomas Mann, W. Averell Harriman Senior Fellow in American Governance, The Brookings Institution"Lee Hamilton's book not only describes the Madisonian vision of what Congress is supposed to be and assesses how it measures up to that vision today, it also serves the same function of educating and edifying the American public that the Federalist papers did.... Every student of Congress, and every American, can benefit from this book." -- Norman J. Ornstein, Resident Scholar, American Enterprise InstituteHow Congress Works and Why You Should Care is a concise introduction to the functions and vital role of the U.S. Congress by eminent former Congressman Lee H. Hamilton. Drawing on 34 years as a U.S. Representative, Hamilton explains how Congress reflects the diversity of the American people, serves as a forum for finding consensus, and provides balance within the federal government. Addressing widespread public misperceptions, he outlines areas where Congress can work better and ways for citizens to become more engaged in public affairs through their representatives in Washington. How Congress Works and Why You Should Care is essential reading for anyone who wants to understand the inner workings of Congress, and how all citizens can participate in its unique mission.