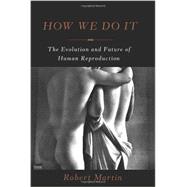 Note: Supplemental materials are not guaranteed with Rental or Used book purchases.
ISBN: 9780465030156 | 0465030157
Cover: Hardcover
Copyright: 6/11/2013
Despite our culture's seemingly endless fascination with both sex and parenting, the origins of our reproductive lives remain a mystery to most of us. Why are a quarter of a billion sperm cells needed to fertilize one human egg? Why do women, apes, and monkeys menstruate while most other mammals do not? Are women really fertile only during a few days in each menstrual cycle? What's natural in human pairing: monogamy or promiscuity? Does morning sickness have a purpose? What about breastfeeding? In How We Do It, biological anthropologist Robert Martin draws on forty years of research to trace our sexual past. He examines the procreative history of humans as well as that of our nearest primate kin, and his analysis of our two-hundred-million-year pedigree unearths some surprising facts about everything from the average length of copulation in humans (five minutes, the short duration of which may explain why modern men lack the penis bone present in mandrills and macaques) to the increased tips of lap dancers during the fertile phase of their cycle. But this is not just the story of remote reproductive origins--Martin looks ahead to the future of human reproduction, calling attention to possible consequences of practices we currently take for granted. For example, if dog breeding is any guide, the use of caesarian sections for childbirth may be putting us on a track toward making vaginal birth impossible, as babies' heads are getting too large for the birth canal. Neonatal ICUs might be making premature births more common, and in-vitro fertilization might be encouraging reproduction by competitively inferior sperm. We don't and won't live life like our ancestors did. But How We Do Itshows that once we understand our evolutionary past, as mammals, primates, and great apes, we can consider what worked, what didn't, and what it all means for the propagation of the human species.