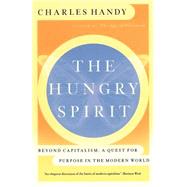 Note: Supplemental materials are not guaranteed with Rental or Used book purchases.
ISBN: 9780767901888 | 0767901886
Cover: Trade Paper
Copyright: 1/5/1999
From one of the world's most respected business and social philosophers, a groundbreaking book that challenges us to question our reliance on traditional definitions of "success" and inspires us to find meaning and fulfillment in our professional, personal and spiritual lives. Many of us, Charles Handy asserts, are confused and frustrated by the fast-paced, prosperous world we have created for ourselves. We are puzzled by the consequences of capitalism, whose material benefits and comforts we enjoy every day, but which also divides rich from poor, consumes so much of our energies, and does not always lead to a more contented life. In a world that is super-efficient, highly productive, and too often soulless, how do we quench our spiritual "hunger"? InThe Hungry Spirit,one of the most visionary business thinkers of our age offers a powerful argument for reexamining the role of work in our lives and discovering what we are truly meant to do and to be. Calling on individuals and organizations to find purpose in the journey we take rather than focusing on money and profits, which are simply the means to keep us going, Handy shows how we can all better ourselves and our companies while also contributing to a decent society. As an oil executive, world-renowned economist, consultant, and professor at the London Business School, Handy himself was once no stranger to the trappings and fortunes of capitalism. But several years ago, Handy realized that he, like many of us, had placed too much significance on job titles and career success to the exclusion of his family, friends, and, especially, the fulfillment of his need to become a complete person, not just a worker slaving away in corporate machinery. He set about looking for what he calls his "white stone"--a symbol of the higher self that represents our true destiny, what you can become when you don't let titles and money and societal pressures get in the way. Just as Handy urges all of us to seek our "white stone" and take greater responsibility for shaping our lives, he also entreats companies and organizations to push themselves to new heights by sticking to a clear-cut purpose. Companies, like individuals, can only grow if they embrace risk and break rules and attract people looking to turn dreams and new ideas into businesses that consumers and investors are excited about. Rather than trying to rally coworkers around a quarterly profit goal, companies must treat employees as citizens, as well as behaving as corporate citizens within the wider community. Handy calls for corporations to take a greater role in upholding the moral structure of society and to use their power to distribute knowledge and wealth to those who need the opportunity to develop--which will one day benefit us all. A rare combination of engaging storytelling, philosophical exploration, and down-to-earth wisdom,The Hungry Spiritoffers readers a powerful tonic for the profit-driven lives we've prescribed for ourselves and an inspiring message of hope. From the Hardcover edition.