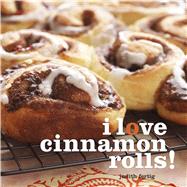 Note: Supplemental materials are not guaranteed with Rental or Used book purchases.
ISBN: 9781449420697 | 1449420699
Cover: Hardcover
Copyright: 9/11/2012
Create comforting swirls of gooey cinnamon goodness with I Love Cinnamon Rolls!. Nothing says comfort food like a batch of cinnamon rolls fresh from the oven. Here you'll find 50 recipes for a variety of sticky buns everyone will love, from traditional favorites such as Orange-Toffee, Pumpkin Streusel, or Coffee-Maple Glazed Cinnamon Rolls to more exotic flavors, such as Moroccan Rose Petal Cinnamon Rolls or Szechuan Pepper Cinnamon Rolls with Fresh Ginger Glaze. Also included are traditional recipes from Sweden, Germany, the Netherlands, France, and other countries. Best of all, the eight dough recipes and the variety of fillings and glazes allow you to mix and match recipe parts and devise your own special creations. There are even whole wheat, vegan, and gluten-free doughs so no one has to miss out on these tempting treats. And don't be daunted by thinking it takes too much time and effort. Bakers of every skill level are covered with recipes for easy, no-knead, and bread machine doughs. There's truly something for everyone to love in I Love Cinnamon Rolls!. Recipe List: Doughs: Easy Cinnamon Roll Dough; Traditional Cinnamon Roll Dough; Thin Strudel Dough; No-Knead Cinnamon Roll Dough; Vegan Cinnamon Roll Dough; Whole Wheat Cinnamon Roll Dough; Gluten-Free Cinnamon Roll Dough; Danish Pastry Dough Rolls: Coffee-Maple Glazed Cinnamon Rolls; Szechuan Pepper Cinnamon Rolls with Fresh Ginger Glaze; Coffee Lover's Cinnamon Rolls; Pineapple Upside-Down Cinnamon Rolls; Rocky Road Cinnamon Rolls; Whole Wheat, Black Walnut, and Apple Cinnamon Rolls; Carrot Cake Cinnamon Rolls with Pineapple Cream Cheese Frosting; Cider-Frosted Whole Wheat Vegan Cinnamon Rolls; Pumpkin Streusel Whole Wheat Crowns; Small Indulgence Cinnamon Rolls; Hot Cross Buns; Classic Cinnamon Rolls; Big-as-a-Plate Cinnamon Rolls; Schnecken; Lime-Glazed Coconut Cinnamon Rolls; Orange-Toffee Cinnamon Rolls; New England Sticky Buns; Cinnamon-Spiced Pear Rolls with Pear Caramel; New England Honeybuns; Mexican Chocolate Cinnamon Rolls; Bourbon Glazed Sweet Potato Cinnamon Rolls; Cardamom and Cinnamon-Scented Swedish Tea Ring; Pullaparts; No Knead Pumpkin Cinnamon Pullaparts; Espresso Chocolate Cinnamon Rolls with Cappuccino Drizzle; Festive Holiday Cinnamon Rolls; Sweet Cheese and Cinnamon Streusel Crowns; Frosted Vegan Cinnamon Rolls; Banana Glazed Vegan Cinnamon Rolls; Tarte Tatin Cinnamon Rolls; Cinnamon Rugelach; Slavic Walnut Cinnamon Twists; Cinnamon Blueberry Crowns; Moroccan Rose Petal Cinnamon Rolls; Frosted Gluten-Free Cinnamon Rolls; Gluten-Free Banana Blueberry Cinnamon Rolls; Gluten-Free Sorghum Apple-Cinnamon Rolls; Gluten-Free Maple Walnut Cinnamon Rolls; Kanelbullar--Swedish Cinnamon Rolls; KorvapuustiFinnish Cinnamon Rolls; FranzbrotchenGerman Cinnamon Rolls; Danish Cinnamon Bearclaws; Pain au Chocolat Cinnamon Rolls with CrÈme Fraiche Drizzle.