Illicit Flirtations : Labor, Migration, and Sex Trafficking in Tokyo
, by
Parrenas, Rhacel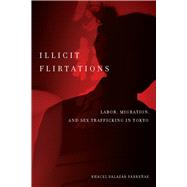 Note: Supplemental materials are not guaranteed with Rental or Used book purchases.
ISBN: 9780804777124 | 0804777128
Cover: Paperback
Copyright: 9/12/2011
In 2004, the U.S. State Department declared Filipina hostesses in Japan the largest group of sex trafficked persons in the world. Since receiving this global attention, the number of hostesses entering Japan has dropped by nearly 90 percent--from more than 80,000 in 2004 to just over 8,000 today. To some, this might suggest a victory for the global anti-trafficking campaign, but Rhacel Parrenas counters that this drastic decline--which stripped thousands of migrants of their livelihoods--is in truth a setback. Parrenas worked alongside hostesses in a working-class club in Tokyo's red-light district, serving drinks, singing karaoke, and entertaining her customers, including members of the yakuza, the Japanese crime syndicate. While the common assumption has been that these hostess bars are hotbeds of sexual trafficking, Parrenas quickly discovered a different world of working migrant women, there by choice, and, most importantly, where none were coerced into prostitution. But this is not to say that the hostesses were not vulnerable in other ways. Illicit Flirtationschallenges our understandings of human trafficking and calls into question the U.S. policy to broadly label these women as sex trafficked. It highlights how in imposing top-down legal constraints to solve the perceived problems--including laws that push dependence on migrant brokers, guest worker policies that bind migrants to an employer, marriage laws that limit the integration of migrants, and measures that criminalize undocumented migrants--many women become more vulnerable to exploitation, not less. It is not the jobs themselves, but the regulation that makes migrants susceptible to trafficking. If we are to end the exploitation of people, we first need to understand the actual experiences of migrants, not rest on global policy statements. This book gives a long overdue look into the real world of those labeled as trafficked.