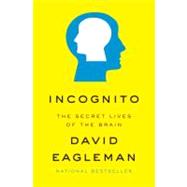 Note: Supplemental materials are not guaranteed with Rental or Used book purchases.
ISBN: 9780307377333 | 0307377334
Cover: Hardcover
Copyright: 5/31/2011
If the conscious mind-the part you consider you-accounts for only a tiny fraction of the brain#x19;s function, what is all the rest doing? This is the question that David Eagleman-renowned neuroscientist and acclaimed author of Sum-answers in a book as accessible and entertaining as it is deeply informed by startling, up-to-the-minute research. Our behavior, thoughts, and experiences are inseparably yoked to a vast, wet, electrochemical network called the nervous system. The machinery is utterly alien to us, and yet, somehow, it is us. In this dazzling journey, David Eagleman plumbs the depths of the brain to illuminate surprising mysteries: Why does the conscious mind know so little about itself? Why can your foot jump halfway to the brake pedal before you become consciously aware of danger ahead? What do Odysseus and the subprime mortgage meltdown have in common? Why do strippers make more money at certain times of the month? Why are people whose name begins with J more likely to marry other people whose name begins with J? Why did Thomas Edison electrocute an elephant? Why is it so difficult to keep a secret? This mind-blowing voyage into the inner cosmos includes stopovers in mate-selection, synesthesia, beauty, free will, infidelity, artificial intelligence, visual illusions, dreams, and the future of criminal law. Throughout, Eagleman helps us understand how our perceptions of ourselves and our world result from the hidden workings of the most wondrous thing we have ever encountered: the human brain.