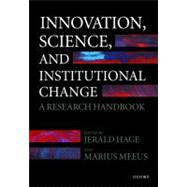 Note: Supplemental materials are not guaranteed with Rental or Used book purchases.
ISBN: 9780199573455 | 019957345X
Cover: Paperback
Copyright: 6/22/2009
Innovation is central to the dynamics and success of organizations and society in the modern world, the process famously referred to by Schumpeter as 'gales of creative destruction'. This ambitious and wide ranging book makes the case for a new approach to the study of innovation. It is the editors' conviction that this approach must accomplish several objectives: it must recognise that innovation encompasses changes in organizations and society, as well as products andprocesses; it must be genuinely interdisciplinary and include contributes from economics, sociology, management and political science; It must be international, to reflect both different patterns or systems of innovation, and different research traditions; and it must reflect the fundamental changestaking place in science, research and knowledge creation at all levels. To this end they have gathered together a distinguished group of economists, sociologists, political scientists, and organization, innovation and institutional theorists to both assess current research on innovation, and to set out a new research agenda. This has been achieved through carefulplanning and development of the project, and also through the ensuing structure of the book which looks in turn at Product and Process Innovation (perhaps the best established focus of existing research on innovation), Scientific Research (assessing the changing character of basic research andscience policy); Knowledge Dynamics in Context (encompassing organizational learning in all its aspects); and Institutional Change (an analysis of the institutional context that can shape, enable and constrain innovation). This carefully integrated and wide ranging book will be an ideal reference point for academics and researchers across the Social Sciences interested in all dimensions of innovation - be they in the field of Management Studies, Economics, Organization Studies, Sociology, Political Science andScience and Technology Studies.