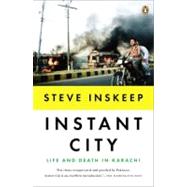 Note: Supplemental materials are not guaranteed with Rental or Used book purchases.
ISBN: 9780143122166 | 0143122169
Cover: Paperback
Copyright: 9/25/2012
In recent decades, the world has seen an unprecedented change in human life: for the first time in history, more people now live in cities than in the countryside. As Morning Edition co-host Steve Inskeep so aptly puts it, we are living in the age of the "instant city", where vast metropolitan areas emerge practically overnight. No rising metropolis has experienced this epic migration more dramatically than Karachi, Pakistan, which has grown from 400,000 people in the 1940s to more than 13 million today. Karachi is the largest city in a nation of vital strategic interest to the United States-yet is a place Americans frequently misunderstand. In his first book, Inskeep explores how this one city illuminates the perils and possibilities of rapidly growing megacities all around the world. Karachi's explosive growth was triggered in 1947, when British India was divided into Hindu-dominated India and Muslim-dominated Pakistan. That act unleashed mass migrations that more than doubled Karachi's population in a few years, and created far deeper divisions that affect the city to this day. In Instant City, Inskeep tells the story of a single harrowing day that sheds light on Karachi's constant tensions. On December 28, 2009, a bomb ripped through a Shia religious procession, killing dozens of people. Soon afterward, hundreds of businesses were torched in Karachi's central commercial district. As he peels back the layers of that terrible day-both the history that led up to it, and its troubled aftermath-Inskeep discovers that it exposes many of the pressures that are shaping Karachi, from terrorism to ethnic conflict, class divisions to scarcity of resources, and above all that classic trait of urban dwellers everywhere: an obsession with real estate. In his investigation, Inskeep meets the people who help the city survive-from the founder of a world-renowned ambulance service to a doctor who re-opens her emergency room the day after it was bombed. He illuminates a gallery of planners, dictators and dreamers who since 1947 have influenced the city's growth, though almost never in the way they intended. Drawing on interviews with a broad cross section of Karachi residents, Inskeep has created a vibrant and nuanced portrait of the forces competing to shape the future of one of the world's fastest growing cities.