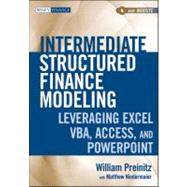 Note: Supplemental materials are not guaranteed with Rental or Used book purchases.
ISBN: 9780470562390 | 0470562390
Cover: Hardcover
Copyright: 2/8/2011
This book leads the reader through a pragmatic, hands-on approach to reaching an intermediate level of sophistication as a financial modeler. After outlining the fundamental concepts of Asset Backed Securitization the book presents a basic Structured Finance model that can be downloaded from the Web site and run in a series of cases. The stage is then set. The book takes this existing model and significantly expands both its scope and sophistication to meet a new business challenge. To accomplish this task the original model is bifurcated along its Asset/Liability lines forming two new models. These models then serve as the twin bases that will be successively developed throughout the remainder of the book.The final form of the two successor models (also available on the Web site), contain extensive interface, analytical and reporting improvements. Widespread implementation of Excel UserForms as menus, well organized cash flow analytics and extensive sets of report packages make these applications of interest to the general modeler as well as the financial specialist. Access is then introduced to streamline various input/output processes of both models. As a finishing touch the models are expanded to produce ready-to-use PowerPoint presentations and incorporate Outlook to automatically deliver the report packages.Extending the analyst's organizational, coding, modeling, and financial skills the book advances in a step-by-step manner to new and more powerful applications. Building on the reader's established knowledge of Excel and VBA you will progressively develop a pair of broader and more sophisticated models. The book contains 6 fully developed models with their supporting data, input, and reporting files as the instructional platform. The book contains over 725 exhibits of reports, examples, and code samples, designed to provide the analyst with a clear, concise, but detailed development plan. The Web site contains 5 additional chapters covering bond math, mortgage math, understanding Excel waterfalls, fundamental securitization principles and how to run the base model. Provides a code intensive approach to improving basic VBA and Excel skills and learning how to integrate them with a real life application. Outlines and implements a series of analytical subroutines to calculate uniform, geographic, and demographic analysis of mortgage cash flows. Also included are extensive stratification reporting and collateral concentration sizing algorithms. Also by William Preinitz: A Fast Track to Structured Finance Modeling, Monitoring and Valuation: Jump Start VBADeveloping Intermediate Financial Models - Leveraging Excel, VBA, Access, PowerPoint and Outlook; a Structured Finance Approach is a straightforward, no-nonsense approach to developing advanced skills as a financial modeler.